On November 5, 2007, the Teach Them To Fish Foundation held its first ground breaking ceremony at Prey Phnheas Primary Village, in Don Bar Commune, Koh Kroloh District in rural Batambang Province, Cambodia, near the Thai-Cambodian border (approximately 12° 46′ 21.34″ N and 103° 15′ 08.86″E) and shortly thereafter began construction on its first primary school (grades 1 to 6).
On March 18, 2008, we completed construction, held our opening ceremony, and began to educate approximately 380 underprivileged children and girls at risk for human trafficking who, now, for the first time had a real school to attend.
The following is our story.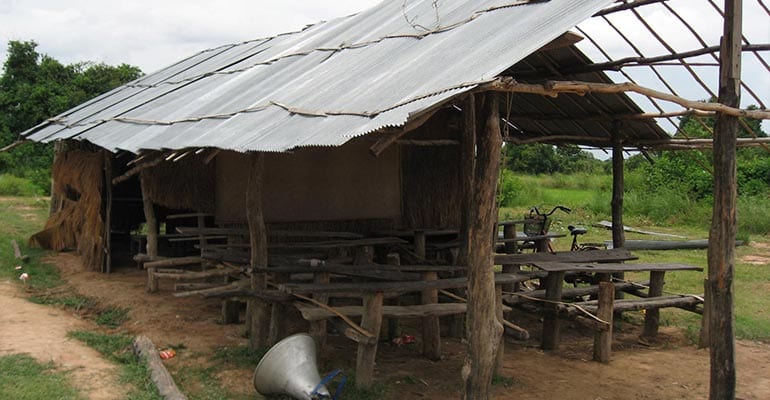 Our First School:
We built our first elementary school (grades 1 through 6) for 380 children at Prey Phghues and Ba Sre Villages in Don Bar Commune, Koh Kroloh District, near the Thai-Cambodian border.  We inspected the site to insure it met our criteria for capital investment and, on November 5, 2007, held a ground breaking ceremony.  (Read our Publication.)  Materials were ordered and delivered.  From November to March, the general contractor built the school.  On March 18, 2008, we held an opening ceremony and the new school officially opened.  At the opening ceremony, we turned ownership of the school over to the villagers.  Among other officials, the Battambang Governor attended.  His Majesty, King Norodom Sihamoni, authorized the Governor to issue a "Gold Medal" to our Board Member.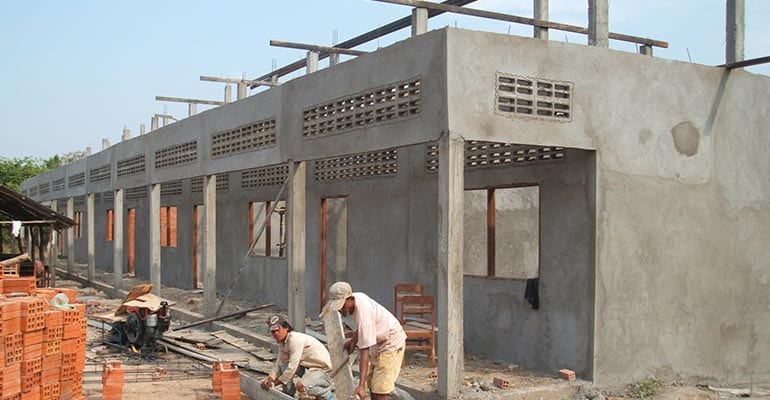 We returned to Prey Phghues on December 18, 2009 and delivered school supplies, 7.5 tons of rice, shoes, T-Shirts, soccer balls, volleyballs and nets, and jump ropes.  This was an amazing experience for all of us.  The children had never played with toys but immediately formed soccer and volleyball teams.  The girls took to the jump ropes as though they had done it all their lives.  And, as an extra-surprise, we learned that the Cambodian government had built a dirt road leading to the school when once a cow path used to be, insuring the future viability of the school.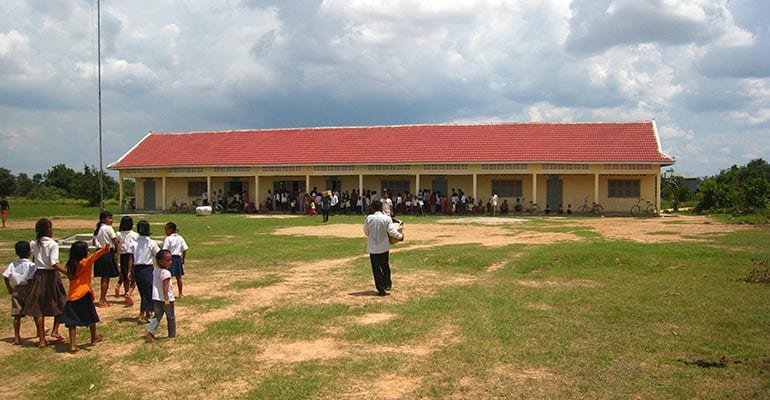 Douglas Cuddle Toys donated 400 stuffed animals for our children.  After clearing customs, on April 8, 2010, we delivered the toys to our school.  The children were absolutely delighted.
To learn more about Prey Phghues Elementary School, see our Photo Gallery, Prey Phghues Primary School, and watch the videos on our Video Gallery.